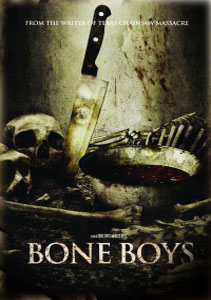 AVAILABLE ON VUDU, GOOGLE PLAY AND DVD!
From writer Kim Henkel, co-creator of the original The Texas Chain Saw Massacre, comes this gut-wrenching, non-stop roller coaster ride through the hellish underbelly of inner-city America. A birthday celebration at an upscale restaurant sets in motion events that bring Sissy, her brother Mikey, and friends Kenny and Barbie face to face with the macabre world of the Butcher Boys.
Inspired by Jonathan Swift's cannibalistic tale A Modest Proposal, the Butcher Boys are international predators who deal in human flesh - dead or alive. Their hunting grounds are the cities of the world.
Featuring cameos from nine Texas Chainsaw Massacre alumni, including Edwin Neal, Marilyn Burns, John Dugan, Teri McMinn and Bill "Leatherface 2" Johnson.
---
"Absolutely knocked my socks off...better than Hostel, with incredible pacing and shocking depravity." - BlumHouse.com
"See this film for the oddity that it is...the film jumps the rails and belly flops right smack dab in the middle of crazy town...I can't stress enough the level of nuts this film bores down into." - Ain't It Cool News
"Dark, witty, stylish and sophisticated...relentlessly violent and nasty." - Fangoria Magazine
"Comes close to capturing the breakneck pace, nightmare imagery and go-for-broke sensory assault of the original CHAIN SAW." - HorrorHound Magazine