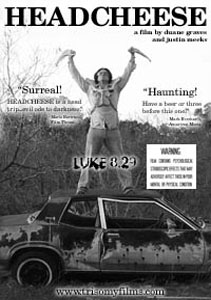 Loosely based on New Testament chapter Luke 8:29, HEADCHEESE is the gritty account of a deranged man's unholy psyche while on a bizarre pilgrimage to Quick Hill, Texas, to rid his soul of feeble-minded parasites.
Filmed on both 8mm and 16mm B&W film stock, this 22 minute observation of a schizophrenic serial killer, wandering desolate Texas backwoods and farmland, combines the visual excess of underground classics such as Richard Kern's SUBMIT TO ME (1985) and FINGERED (1986) and thematically resembles Nico B and Rozz Williams' PIG (1988) – another movie exploring the tortured mind of a serial killer and his spiritual quest for truth.
The violence is conducted ritualistically and at times resembles a bizarre mix of tortures as visited upon Christ in the Chapters according to St. Luke (an excerpt of which opens the film), Satanic worship, and Elvis stage act (the scene where Legion drapes an animal skull round his shoulders and starts a bout of karate poses atop a burned out car parodies the Memphis legend wonderfully) and is beautifully staged against the foreboding Austin lots that featured prominently in THE TEXAS CHAINSAW MASSACRE (1974).
---
"Strange and disturbing." – Cult Movies Magazine
"HEADCHEESE has the gritty backwoods atmosphere of some lost grindhouse classic." – Shock Cinema Magazine
"Surreal! HEADCHEESE is a head trip…an evil ode to darkness." – Film Threat