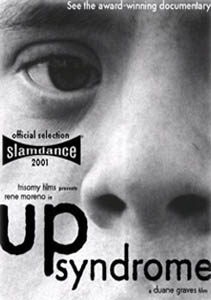 (A Special Edition DVD is available for purchase through this website only via PayPal. Click the "Buy Now" button on the right for more details).
University of Texas student Duane Graves chronicles his charismatic childhood chum Rene Moreno, a San Antonio native with Down Syndrome, in this playful, stirring, remarkably unique portrait documentary.
Be it pre-destined or accidental, fate plays a huge role in our lives. Fate first dealt Rene Moreno a hand that included Down Syndrome, a congenital condition caused by extra genetic material on the 21st chromosome. Then fate intervened again by making Rene and director Duane Graves neighbors.
The two spent their childhood summers in San Antonio, conspiring together on ultra-bad home movies shot by Graves and starring Moreno, often as a deranged monster of some sort.
In Up Syndrome, Graves' feature debut, the University of Texas at Austin film student turns his camera on Moreno again. Only this time, he doesn't depict his star as a horrific monster or a deranged lunatic, but simply as himself: a complex and engaging young man struggling to cope with his condition — and the world's attitudes towards it — as he matures into adulthood.
---
"Touching!" – Variety
"One of the best portrait docs I've ever seen." – Indiewire
"A memorable experience." – Film Threat