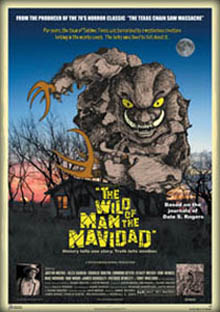 AVAILABLE ON DVD AND ON ITUNES EVERYWHERE!
With a mysterious creature lurking in the nearby woods, no one in the community of Sublime is safe in this modern horror tale inspired by classic drive-in movies of the 1970's. Based on the journals of Dale S. Rogers, a small-town Texan who documented the titular "wild man" of local legend.
Dale S. Rogers is a man who, in the 1970s, lived along the banks of the Navidad River in Sublime, Texas – the same area where the original legend of the Wild Man of the Navidad surfaced back in the late 1800s. The film follows Dale, his wheelchair-bound wife Jean, and her oft-shirtless caretaker Mario. Though their ranch sits on vast acres prime for paying hunters, Dale has resisted opening up the land because of the strange Bigfoot like creatures supposedly inhabiting it. But after the prodding of some of the rifle-loving townsfolk and the loss of his welding job, Dale gives in and opens the gate to his compound.
Then the hunters become the hunted.
---
"A pretty potent dose of movie moonshine…WILD MAN has a dramatic locomotive quality as well as a palpable pensiveness that keeps one watching." – Variety
"The best Bigfoot film I've ever seen…a fiendishly overlooked masterpiece." – Ain't It Cool News
"Supremely creepy…melding elegant atmospherics and the splattered guts…Graves and Meeks hit the mark." – The Austin Chronicle
"Much praised…WILD MAN is a cleanly shot and often atmospheric film that…has some of the same open-air dread as the original CHAIN SAW." – Fangoria Magazine
"Enthusiastically splattery…a rather spirited little terror tale…that actually feels like it has been hidden in a vault." – Scott Weinberg, Cinematical