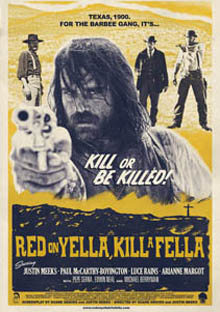 AVAILABLE ON DVD IN THE US AND UK!
For more info, visit RLJE Films.
Claude "Sweet Tooth" Barbee and his gang of cutthroat outlaws – the most wanted men in Texas – are on a desperate ride across five hundred miles of badlands to recover a fortune in hidden loot from their most daring robbery. But Barbee and his crew aren't the only coldblooded killers riding the range. With a large "dead or alive" cash bounty on their heads, the outlaws are being picked off one by one. What began as a hard journey driven by greed becomes a feverish race to survive.
---
"Plays like the product of Sergio Corbucci and Lucio Fulci…peppered with colorful dialogue and delicious performances…a great big, brutal ball of fun." – Comingsoon.net
"A bloody fun Western!" – Bloody Disgusting
"Truly unique in today's cinema…they don't make Westerns like this anymore." – Ain't It Cool News
"True Grit meets Natural Born Killers, with all the heightened tones each possesses…Meeks is a born star." – Truth On Cinema
"A savvy and sprawling Western spectacle on a shoestring budget, KILL OR BE KILLED is one damn fine flick." – Starpulse